Best. Negotiation. Ever.
It's one of those nights when I want to share a few stories with you...
...But First, A Bit of House-Cleaning:
So I don't know if you noticed, but it's holiday time. Mandi and I will be taking a bit of break time over the next couple of weeks, starting Monday. We will be re-running some of our favorite pieces, and we may drop in for a meme-fest or two. We'll announce the winner of the election contest on Friday.
And now without further ado...
1. The Good -
Progress Is Beautiful.

And gender-neutral in color. Hallelujah: there's a black, silver, and blue Easy Bake Oven, on its merry way to good little girls and boys everywhere. Good work, Hasbro and little McKenna Pope. Santa is smiling on you.
26 Acts of Kindness - One way to try to feel better and do something meaningful in the wake of tragedy? How about performing an act of kindness for every person lost last Friday at Sandy Hook Elementary?
"It is apparent that the Sandy Hook tragedy was a watershed event that has raised the national debate on gun control to an unprecedented level. The debate essentially focuses on the balance between public safety and the scope of the Constitutional rights under the Second Amendment. As a Firm, we are investors, not statesmen or policy makers. Our role is to make investments on behalf of our clients who are comprised of the pension plans of firemen, teachers, policemen and other municipal workers and unions, endowments, and other institutions and individuals. It is not our role to take positions, or attempt to shape or influence the gun control policy debate. That is the job of our federal and state legislators.
There are, however, actions that we as a firm can take. Accordingly, we have determined to immediately engage in a formal process to sell our investment in Freedom Group. We will retain a financial advisor to design and execute a process to sell our interests in Freedom Group, and we will then return that capital to our investors. We believe that this decision allows us to meet our obligations to the investors whose interests we are entrusted to protect without being drawn into the national debate that is more properly pursued by those with the formal charter and public responsibility to do so." - Cerberus, on divesting from the company that makes one of the guns used on Friday. They were under pressure from investors who were threatening to take their business elsewhere.
2. The Bad -
Or maybe we could make sure mass murderers can't get guns?
Just spit-balling, here.
The NRA Has Something to Say - After taking down its Facebook page and going silent on Twitter in the wake of Friday's shootings, the NRA has now come forward to say they are "shocked, saddened and heartbroken..." That's nice. They are also planning a press conference. I wonder if this will be a call to arm teachers or something actually shocking, like support for the Feinstein Assault Weapons Ban or closing the gun show loophole. I'm guessing the former. But pigs could fly.
"The Taliban have targeted previous anti-polio campaigns, but this has been a particularly deadly week. The government is in the middle of a three-day vaccination drive targeting high risk areas of the country as part of an effort to immunize millions of children under the age of five...
The women who were killed Tuesday — three of whom were teenagers — were all shot in the head at close range. Four of them were gunned down in the southern port city of Karachi, and the fifth in a village outside the northwest city of Peshawar. Two men who were working alongside the women were also critically wounded in Karachi...

Two of the women were killed while they were in a house giving children polio drops, said Shoukat. The other two were traveling between houses when they were attacked, he said.
On Monday another person working on the anti-polio campaign, a male volunteer, was gunned down in Karachi. Taliban militants also killed three soldiers in an ambush of an army convoy escorting a vaccination team in the northwest.
Officials in Karachi responded to the attacks by suspending the vaccination campaign in the city, said Sagheer Ahmed, the health minister for surrounding Sindh province. The campaign started on Monday and was supposed to run through Wednesday, he said."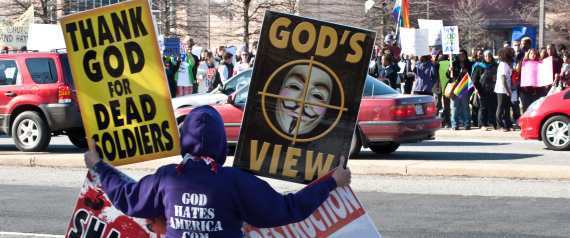 Now That's Ugly.
3. And The Ugly
-
The Westboro Baptist Church - they of the protesting soldiers' funerals, and just about every other offensive thing they can think of to do to drum up more attention - says they plan to protest the funerals of the victims of the Sandy Hook Elementary tragedy.
They outrage pretty much everybody, including
the KKK
(yes, really), and
Anonymous
(Hacktivists is what these guys call themselves, they are
fairly vigilante
hackers). But WBC just keeps on, keepin on. Spewing vitriol. Which brings us to...
4. Bonus: The Shiny Happy
- Stay strong, people. Good stuff is out there. "
Look for the helpers
."