Apparently many Americans - and not just fringe-y scary ones - have an affinity for or emotional attachment to guns. But the level of actual regulation on guns is simply topsy turvy, considering the amount of danger they present to people (especially children).
So I wanted to pull together a bunch of ideas I've seen floating around to underscore just how under-regulated guns are in America.
Ten things that are more regulated than guns:
10. Sudafed.
9. Taxes.
8. Cigarettes.
And apparently it works...
7. Fishing.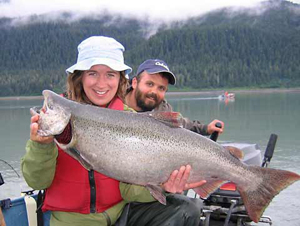 Now let me see, is this one of the types you have to throw back?
6. Cheese.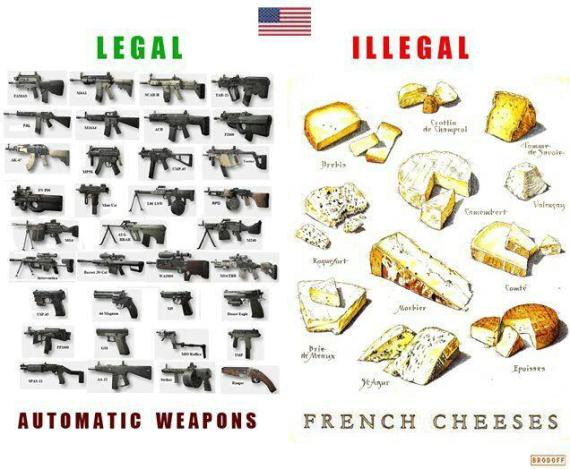 The Europeans do not understand our love for pasteurizing everything. But then, maybe their noses aren't as strong?
5. Beer.
Strict penalties for not following age limits, distribution limits, and thankfully DUI crack-downs...
4. Barbies/Teddy Bears.
That's a sketchy-looking Teddy Bear,
3. Cars/Driving.
My current favorite of these is the title and tag part.
2. Marriage.
How many degrees of consanguinity does your state allow?
1. Uteruses.
Well, I mean really, what's more dangerous?
Let's just take a step back and take a look at the big picture.
What if you had to study and take a test to get a gun permit, as with a driver's license? What if guns had to pass the same level of safety standards as Barbies or cars or other consumer products? Would that be so terrible?
And what if we took the assault-weapon guns that are really only used for target practice and killing people and limited their use to actual target practice? Or we could always revisit
Chris Rock's crazy-expensive ammunition idea
.
I like what the
Children's Defense Fund
has to say:
1. A gun in the home increases the risk of homicide, suicide, and accidental death... A gun in the home makes the likelihood of homicide three times higher,1 suicide three to five times higher and accidental death four times higher. For every time a gun in the home injures or kills in self-defense, there are 11 completed and attempted gun suicides, seven criminal assaults and homicides with a gun, and four unintentional shooting deaths or injuries.
2. Many children live in homes with loaded and unlocked guns... One third of all households with children younger than eighteen have a gun and more than 40 percent of gun-owning households with children store their guns unlocked. Twenty-two percent of children with gun-owning parents handled guns in their homes without their parents' knowledge. More than half of youth who committed suicide with a gun obtained the gun from their home, usually a parent's gun...
Common sense gun safety laws help reduce gun violence while protecting the legal use of guns.

The following gun safety laws have all been found to be effective in reducing gun violence and factors associated with gun violence. None of these regulations prevent law-abiding citizens from owning guns.
Tighter regulation and oversight of gun sellers. A study using crime gun trace data from 54 U.S. cities found that diversion of guns for use in crimes is much less common in states:
That license retail gun sellers;
That require careful record keeping that can be reviewed by law enforcement;
That require potential gun buyers to apply for a license directly with a law enforcement agency; and
Where law enforcement agencies conduct regular compliance inspections.
Requiring background checks for purchases through private sellers as well as dealers. California, which regulates private gun sales, has substantially fewer illegal straw sales (where a purchaser buys a gun for a person who isn't eligible to buy it) than states that do not regulate such sales.



Firearm prohibitions for high-risk groups. A study in California found that denial of handgun purchase to people who have committed violent misdemeanors was associated with a decrease in risk of arrest for new gun and/or violent crimes.



Child access prevention laws. Studies of child access prevention laws, which require gun owners to store their guns so that children and teens cannot access them unsupervised, have found these laws reduce accidental shootings of children by as much as 23 percent and suicides of adolescents by eight percent.



Well-designed assault weapons ban. An Australian law banning semi-automatic and pump-action rifles and shotguns and buying back banned weapons was associated with decreased suicide and homicide rates and with the absence of any mass shootings in the decade following the law (compared to 11 mass shootings in the prior decade).
These seem like simple, good government ideas.
We need to look at guns and gun control rationally
, not under some trumped up level of hysteria imposed by the NRA and gun manufacturers.