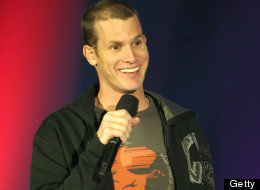 Yep. Hours after reading it. Still mad.
We go merrily along in society, everything seems fine, and then... bam.
Some jackass opens his stupid, sexist mouth
and does something like make a gang-rape "joke" about a woman in the room with him (no it wouldn't be better if she weren't in the room with him, but slugs like this usually don't have the cojones to do that).
...And then I start thinking about all of the
stupid
,
awful
,
sexist things
that have
been said
lately in
the public forum
, and I get really, really angry. And I want to slug anybody who says or implies that we are an equal society and we've come a long way, baby.
I don't care if you're a comedian. I don't care if you're a right-wing radio host. I don't care if you use the "get a sense of humor, shrew" defense. Shut it. Do you kiss your mother with that mouth?
And P.S. Real comedians don't have to stoop to shock gimmicks like rape jokes. They work at creating jokes that are actually funny.
Like here (a few swear words, don't watch it at work or in front of kids)
.
Or here
.
Or here (again with some swearing, but funny)
.
P.S. See
update
post...