There's been a lot of talk this week about whether the affair General Petraeus had with his biographer Paula Broadwell is a legitimate news story. The only reason I think it is, is because of the potential for blackmail Petraeus opened himself up to as CIA Director (i.e. holder of the government's most important secrets). But because of the
downright Real-Housewivean facts of the case
, I felt this week's follies should look at the crazier sex scandals we've seen over the years. All of these scandals have a sad side, with families impacted. But they also have a funny side, with prominent politicians acting like fools while seemingly convinced they will not be caught.
And so, without further ado...
5. "Ma, Ma, Where's My Pa?"
- President Grover Cleveland's illegitimate child - Summer, 1884.
When Grover Cleveland was the Democratic nominee for President in 1884, reports surfaced that the then unmarried politician had fathered an illegitimate child with a widow named Maria Crofts Halpin. The New York governor publicly ignored the scandal but told his close supporters to "tell the truth" — that he may have been the father of 10-year-old Oscar Folsom Cleveland. Even Halpin didn't know for certain who Oscar's father was; the boy had been named after Cleveland because he was the only unmarried possibility. Without admitting paternity, Cleveland paid child support for many years.
Republicans accused Cleveland of immorality. He countered by maintaining that despite his indiscretion, he had kept his professional integrity — while painting his opponent, James G. Blaine, as a corrupt official at the mercy of Wall Street.
Cleveland won by a wide electoral margin, although the popular vote was considerably closer. And while he got the last laugh, his supporters may have had the best. When Republicans jeered at Cleveland's rallies, chanting, "Ma, Ma, where's my pa?" Democrats would respond, "Off to the White House, ha, ha, ha!"
This is the lowest on the list because Cleveland was about as smart and as ethical as he could be. He wasn't married when he had the affair, he never denied the child could be his, and he paid child support for years. Comparatively, Cleveland was a pillar of virtue.
4. "I Have a Wide Stance."
- Senator Larry Craig and the airport bathroom - Summer, 2007.
Sen. Larry Craig (R-Idaho) was arrested in June at a Minnesota airport by a plainclothes police officer investigating lewd conduct complaints in a men's public restroom...
The bathroom in question.

On Aug. 8, he pleaded guilty to misdemeanor disorderly conduct in the Hennepin County District Court. He paid more than $500 in fines and fees, and a 10-day jail sentence was stayed...
After he was arrested, Craig, who is married, was taken to the Airport Police Operations Center to be interviewed about the lewd conduct incident, according to the police report. At one point during the interview, Craig handed the plainclothes sergeant who arrested him a business card that identified him as a U.S. Senator and said, "What do you think about that?" the report states...
According to the incident report, Sgt. Dave Karsnia was working as a plainclothes officer on June 11 investigating civilian complaints regarding sexual activity in the men's public restroom in which Craig was arrested...
"At 1216 hours, Craig tapped his right foot. I recognized this as a signal used by persons wishing to engage in lewd conduct. Craig tapped his toes several times and moves his foot closer to my foot. I moved my foot up and down slowly. While this was occurring, the male in the stall to my right was still present. I could hear several unknown persons in the restroom that appeared to use the restroom for its intended use. The presence of others did not seem to deter Craig as he moved his right foot so that it touched the side of my left foot which was within my stall area," the report states.
Craig then proceeded to swipe his hand under the stall divider several times, and Karsnia noted in his report that "I could ... see Craig had a gold ring on his ring finger as his hand was on my side of the stall divider."
Karsnia then held his police identification down by the floor so that Craig could see it.
"With my left hand near the floor, I pointed towards the exit. Craig responded, 'No!' I again pointed towards the exit. Craig exited the stall with his roller bags without flushing the toilet. ... Craig said he would not go. I told Craig that he was under arrest, he had to go, and that I didn't want to make a scene. Craig then left the restroom."
In a recorded interview after his arrest, Craig "either disagreed with me or 'didn't recall' the events as they happened," the report states.
Craig stated "that he has a wide stance when going to the bathroom and that his foot may have touched mine," the report states. Craig also told the arresting officer that he reached down with his right hand to pick up a piece of paper that was on the floor.
"It should be noted that there was not a piece of paper on the bathroom floor, nor did Craig pick up a piece of paper," the arresting officer said in the report.
And Craig is trying to charge taxpayers and campaign contributors for the fallout:
Former Republican U.S. Sen. Larry Craig aims to fend off a federal election lawsuit against him by arguing his infamous June 11, 2007, Minneapolis airport bathroom visit that ended in his sex-sting arrest was part of his official Senate business.
Craig is hoping to avoid repaying $217,000 in campaign funds the Federal Election Commission claims he misused to defend himself.
The FEC sued Craig in June in U.S. District Court in Washington, D.C., alleging he converted the campaign money to personal use by spending it on his legal defense after he was accused of soliciting sex in a Minneapolis-St. Paul International Airport bathroom. The commission argues Craig's defense had no connection to his campaign for federal office.
Craig counters that money tied to his airport bathroom trip was for neither personal use nor his campaign, but fell under his official, reimbursable duties as senator because he was traveling between Idaho and the nation's capital for work.
Nice. It's sad, because I feel for his family, and in a small way I feel for Senator Craig - who clearly doesn't feel free to just be who he is. But the level of stupidity of the "I have a wide stance" defense earns this scandal a place on the list.
3. "I Was Hiking the Appalachian Trail."
Or in Argentina, with my mistress. Governor Sanford takes a hike, to his mistress - Summer, 2009.
First, there was the mystery, supposedly solved by the staff.
South Carolina Gov. Mark Sanford has not been seen or heard from since Thursday, but his staff members said last night that he has been hiking the Appalachian Trail for the past five days.
It's not your fault, beautiful Appalachian Trail.
"I apologize for taking so long to send this update, and was waiting to see if a more definitive idea of what part of the trail he was on before we did so," said Joel Sawyer, the Republican governor's spokesman. Sawyer added that he will update the public on Sanford's specific whereabouts as soon as he knows them.
The office of Lt. Gov. Andre Bauer (R) released a statement maintaining that Sanford's staff had originally told his office earlier yesterday that they knew where the governor was -- a claim that turned out to be false. Bauer said that he called Sanford's office requesting to speak to the governor and that the "request was denied because the governor's chief of staff does not know where the governor is, and has not communicated with the governor since he left South Carolina last Thursday."

Bauer added that he "cannot take lightly that his staff has not had communication with [Sanford] for more than four days."
Then he showed up and admitted where he had been.
Gov. Mark Sanford (R-S.C.) admitted that he had conducted an extramarital affair with a woman in Argentina who he had gone to visit over the last five days -- during which time a massive media story developed over where he was and why.
Governor Sanford, crying at his press conference.
"I have been unfaithful to my wife . . . I developed a relationship with what started as a dear dear friend," said Sanford.
He said that he had met the woman, who he did not name, roughly eight years ago and that it had become romantic within the last year. He visited her three times during the past year, Sanford said, and noted that his wife, Jenny, had been aware of the affair for the past five months.
"First and foremost, I apologize to my wife and my four boys. I have made decisions that have hurt and will continue to hurt them, and for that I'm sincerely sorry," Sanford said in a statement released after his at-times rambling announcement in the South Carolina statehouse. "Jenny has stood by me through campaign after campaign, through hard time after hard time, and neither she nor the boys deserve this. Please offer them your prayers."...

In his statement, Sanford also apologized to his staff for misleading them about his whereabouts and added: "I want to make absolutely clear that over the past two days at no time did anyone on my staff intentionally relay false information to other state officials or the public at large. What they've said over the past two days they believed to be true, and I'm sorry to them for putting them in this position.
The State newspaper in South Carolina first reported this morning that Sanford had spent the last six days in Argentina not, as his staff had previously said, hiking the Appalachian Trail.
Sanford's public announcement punctuates a strange and winding series events that caused confusion within the state government and considerable chagrin among the Republican Party, which saw its second potential 2012 candidate in as many weeks brought low by infidelity... [The other was Senator Ensign, another contender for this list.]
Then he proposed to the mistress. Dude. Just get a divorce. To do anything else is mean. To claim to be hiking the Appalachian Trail puts you on lists like these.
2. "Follow me around, I don't care. I'm serious. If anybody wants to put a tail on me, go ahead. They'd be very, bored. "
- Be careful what you ask for, or: Monkey Business on The Monkey Business. Gary Hart gets caught cheating while he's the front-runner for the Democratic Nomination - Spring, 1987.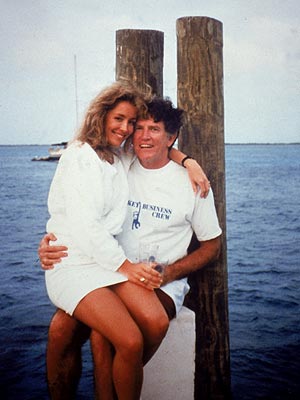 Yes, the shirt says "Monkey Business Crew."
With a picture of a monkey.
In the public's mind, probably no event from the 1988 campaign proved more memorable than the undoing of Democratic candidate Gary Hart. Long plagued by rumors of "womanizing," the front-running senator from Colorado watched his chances for the presidency evaporate in May when the Miami Herald reported that Hart, a married man, had spent the night with an attractive young model named Donna Rice.
Acting on an anonymous tip, the Herald had staked out Hart's Washington townhouse, and while the surveillance was flawed (it was not continuous and both house entrances were not always covered), the circumstances were suspicious enough to generate a massive media frenzy. Hart fought back, but his damage control operation collapsed in the face of other real or threatened disclosures, such as the revelation that Hart and Rice had earlier taken an overnight cruise to Bimini on the aptly christened yacht "Monkey Business."
The denouement came after a Washington Post reporter asked Hart, "Have you ever committed adultery?" Hart refused to answer the question at the time, but the meaning of the query soon became clear. The Post had identified yet another woman with whom Hart had had a long-standing relationship. Faced with that potential disclosure as well as an overwhelming media maelstrom, Hart went home to Colorado, withdrawing from the presidential race in a bitter farewell speech on May 8.
The thing I find the absolute strangest about this story is the fact that Hart threw down the gauntlet, practically daring reporters to follow him. Classic Freudian theory would say he wanted to be caught.
And the Winner is...
1. "I can't type. I can't file. I can't even answer the phone."
- Representative Wayne Hays hires a "secretary." This is probably my favorite sex scandal of all time, if only because it includes the phrase "Hell's fire!" - Spring, 1976.
"Hell's Fire!" Quoth Rep. Hays.
For nearly two years, Rep. Wayne L. Hays (D-Ohio), powerful chairman of the House Administration Committee, has kept a woman on his staff who says she is paid $14,000 a year in public money to serve as his mistress.
Hays denies this, saying "Hell's fire! I'm a very happily married man."
"I can't type, I can't file, I can't even answer the phone," says Elizabeth Ray, 27, who began working for Hays in April 1974 as a clerk. Since then, Ray says she has not been asked to do any Congress-related work and appears at her Capitol Hill office once or twice a week for a few hours.
Currently, she is closeted in a luxuriously appointed office in the Longworth House Office Building behind a blank door. "Supposedly," she says, "I'm on the oversight committee. But I call it the Out-of-Sight Committee."
According to Ray, the 64-year-old congressman usually has visited her for sexual relations once or twice a week in their long-standing relationship.
Hays divorced his first wife of over 25 years last year. Five weeks ago he married his veteran Ohio office secretary, Pat Peak, who continues to live in Ohio.
As chairman of the Administration Committee, Hays quietly exercises enormous power over such Hill activities as congressional travel, payroll, staffing, parking and police. He also serves on the House International Relations Committee...
Hays is running as a favorite-son candidate for President in the June 8 Ohio primary, and close associates say he is considering running for governor of Ohio in 1978.
Five days before his wedding to Pat Peak, Hays told Ray after a dinner date that his marriage would not change their relationship "if you behave yourself." Her position on the payroll would also remain secure, he added, but suggested she "start coming in two hours a day." Said Hays: "That Woodward [Bob Woodward of the Washington Post] is after me, and if he found out about you . . ."
In the same conversation, Hays told Ray, "I ought to be good for one week since I'm getting married."...
He also denied ever taking Ray to dinner and claimed he hadn't seen her "all this week, or last week." However, two Post reporters were present when Hays dined with Ray both at the Hot Shoppes and the Chapparral restaurants in the Key Bridge Marriott Motor Hotel on different occasions, one last Monday night.
Elizabeth Ray
Ray, a native of Asheville, N.C., says she worked briefly as a stewardess, waitress and car rental clerk before beginning work on the Hill in the summer of 1972.
During a year and a half working as a clerk on the staff of former Rep. Kenneth J. Gray (D-Ill.), Ray says she was frequently given days off to prepare for evenings spent on a date with Gray or favored constituents. She says she often entertained Gray's male friends aboard Gray's houseboat, docked on the Potomac.
Gray, reached by phone, laughed when Ray's name was mentioned. "Elizabeth Ray," he said, "that name always evokes a laugh."
He denied dating her, and said, "I never knew what my employees did after work. Liz was great at greeting people . . . I think she did a little typing."
He said he thought Ray had been on his houseboat, "maybe two times for big office parties."
Ray says it was Gray who introduced her to Hays; Hays says he can't remember which congressman it was.
During the first year she worked for Hays, Ray was listed with the House clerk's office as an assistant clerk earning more than $11,000 a year. Last spring she quit and traveled to Hollywood to try to earn her living as an actress (I'd been giving the Academy Award performances once a week for two years," she said.) She returned to Hay's office to ask for a job in late July, 1975.
Davis says he remembers Ray working for him for about a month last summer as a general typist. Told she could not type, Davis said:
"She's not an expert 300-words-per-minute, but she could have addressed envelopes."...
When asked why he gave Ray a raise, Hays replied: "The landlord was after her, the credit union, she was heavily in debt. I felt sorry for her."...
Ray's office is serenely empty, except for her backgammon set and collection of framed signed photographs on the wall next to her desk, from entertainers and other famous persons...

Ray is not listed in the Congressional Directory as a staffer on either the Administration Committee or its obscure arm, the ad hoc Oversight Subcommittee.
She says Evelyn Wilson, office manager of the Administration Committee, told her recently that details of her employment were "confidential."
A call to the House Finance Office, however, confirmed that Ray's checks are currently issued from the Administration Committee account. Asked whether she had ever told Ray her employment details were confidential, Wilson said, "I'm trying to recall. We've had many conversations. I don't believe that I told her details of her employment were confidential, but Jesus Christ, I can't remember everything I say."...
Rep. Phillip Burton (D-Calif.) was once quoted as calling Hays "the meanest man in Congress." Adds Ray, "He's also the most powerful. Everyone is afraid of him."
"Hays likes to brag a lot," she says, "about how he's such a good friend of Henry Kissinger's and he's flying here on Air Force One and getting all this security protection when he goes to Europe."...
Hays is scheduled to leave today for London on a Bicentennial congressional trip to bring back the Magna Carta.
The whole article from The Washington Post is bizarre and hilarious, though I do feel sad for Ray. You should read the whole thing.
And in case you can't get enough stupid sex scandals... these almost made the cut:
"
Bitch set me up
,"
The Petticoat Affair
, and
Strom Thurmond: The Professional Racist and the Black Daughter
.